During the recent webcast by EA SPORTS on Audio, the lead audio developer talked about the new commentators in the game; Simms and Nantz, talked about unique QB Cadences, Real NFL Sounding hits, theme songs, and more; but what the fans wanted to hear was In Game Commentary.  Unfortunately they didn't show any in-game commentary on the webcast but shortly afterwards EA SPORTS released a video with some in-game commentary.
Let's take a look at the video and then let's analyze it a little: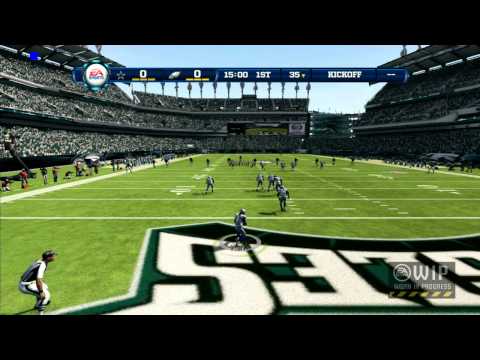 Ok, let's start at the beginning.  I think everyone can agree that the pre-game commentary and presentation is pretty good especially what we saw on the webcast. The thing many have talked about and something that is evident through out the whole video is that Nantz doesn't call out any team names or player names and that's very disturbing for some hard-core fans.
The other glaring complaint and one I've been telling people for a while is the lack of enthusiasm from Nantz or Simms.  Everyone seems to be applauding the removal of Gus Johnson and Chris Collingsworth.  "They sound terrible", "Tired of Gus Johnson making small plays seem so big", "Glad they got rid of them" … those are some of the comments that I've seen on twitter and Madden 13 comments everywhere.  Like I said before I like the addition of Simms and Nantz, I just don't like the removal of Johnson and Collingsworth.  Remember, Gus and Chris didn't have the luxury of sitting together in the booth while recording their audio, they didn't have the good fortune of new writers and the same technology that FIFA used for their award-winning commentary (I don't know if they won an award, just saying it was pretty good, please don't quote me … lol).  What I'm saying is before you continue to kill Gus and Chris, just think of the disadvantage they had.
Phil and Simms are just not that enthusiastic in real life, so I'm not sure why fans are going crazy because they are not yelling in Madden NFL 13.  What they will do is sound great, sound real, sound like they have chemistry together.  Sims and Nantz will have more depth and give better insight on what's happening in-game with the ability to stop in mid sentence if there is an interception or fumble.  There will be some gafs and stuttering to make the commentary authentic and life-like.
I for one though am going to miss Gus Johnsonisms in Madden 13.  I was longing to hear him say "He's got get away from the cops speed …" while I run with Robert Griffin III down the sidelines against the Cowboys.