Charles Barkley Acts Like He Believes Cam Got Paid In College
In the locker room at Dirk Nowitzki's charity softball game (in which Terrell Owens was the MVP), Charles Barkleyput on his own MVP performance (Owens had at least one big hit off of him during the game).
Check out this video of Barkley talking about how he told Nike to tell an 18 year-old Dirk Nowitzki that he could have "whatever he wants" if he'd play for Auburn instead of entering the German army.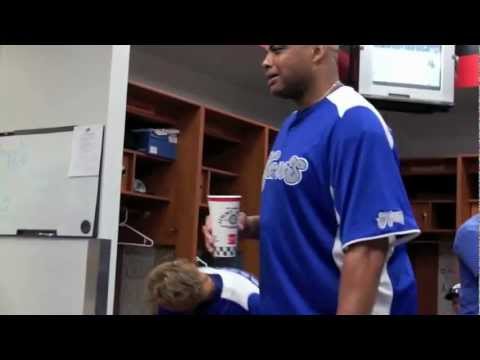 At the end, Barkley talks about Auburn giving $200,000 to Carolina Panthers QB Cam Newton's father, Cecil Newton. He says it was a "damn good investment".
In my opinion, this is hilarious. The NCAA makes millions off student athletes, many of whom wind up not making it in the NFL but have difficulty in the work force where brain and other injuries creep up and sometimes the lack of attention paid to their education catches up with them.
It's not inherently a travesty that money dominates a sport that pretends to all be about sportsmanship, but it is a travesty that the football – and, to an extent, basketball – players who make the universities millions in merchandise and TV deals don't get a piece of the pie.
Cam Newton and his buddy Steve Smith will make a push for their first Super Bowl rings starting September 9th at Raymond James Stadium against the Tampa Bay Buccaneers, while his brother Cecil Newton, Jr. is a back-up center for the Baltimore Ravens.